CoolTop – Mudgeeraba Tennis Club
Client: Mudgeeraba Tennis Location: Mudgeeraba, Queensland, Australia Installer: AllAbout Sports Courts Surface: CoolTop Ultra Topcoat, Nordic Blue centres, Ice Blue surround. Date installed: February 2023 THE PROJECT: Existing Synpave courts were recoated using COOLTOP. "We recently had our courts at Mudgeeraba Tennis Club resurfaced with the California Sports Surfaces CoolTop. When we played on the …
Client: Mudgeeraba Tennis
Location: Mudgeeraba, Queensland, Australia
Installer: AllAbout Sports Courts
Surface: CoolTop Ultra Topcoat, Nordic Blue centres, Ice Blue surround.
Date installed: February 2023
THE PROJECT:
Existing Synpave courts were recoated using COOLTOP.
"We recently had our courts at Mudgeeraba Tennis Club resurfaced with the California Sports Surfaces CoolTop. When we played on the surface for the first time after they were completed, I was extremely happy and surprised how much cooler the court was to play on. Our members have even commented at how much cooler the courts are to play on now. You don't get that rise of heat coming off of the courts that you get from the normal surface. I would highly recommend anyone looking to resurface their tennis court to go with the CoolTop surface, you will definitely feel the difference and be very happy you went with it when you play on your court for the first time in the sun."
– Kelvin Orsi, Head Coach/manager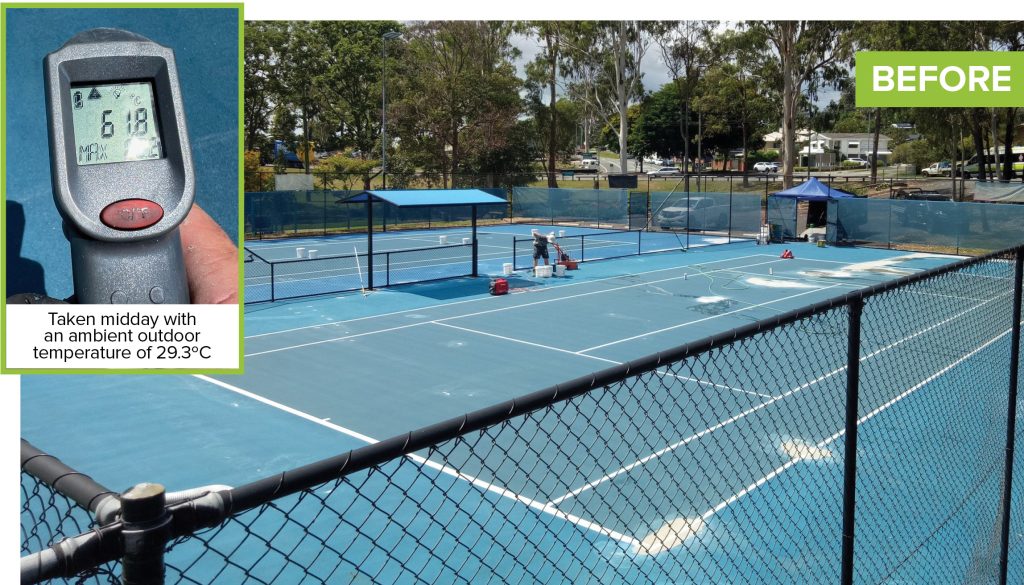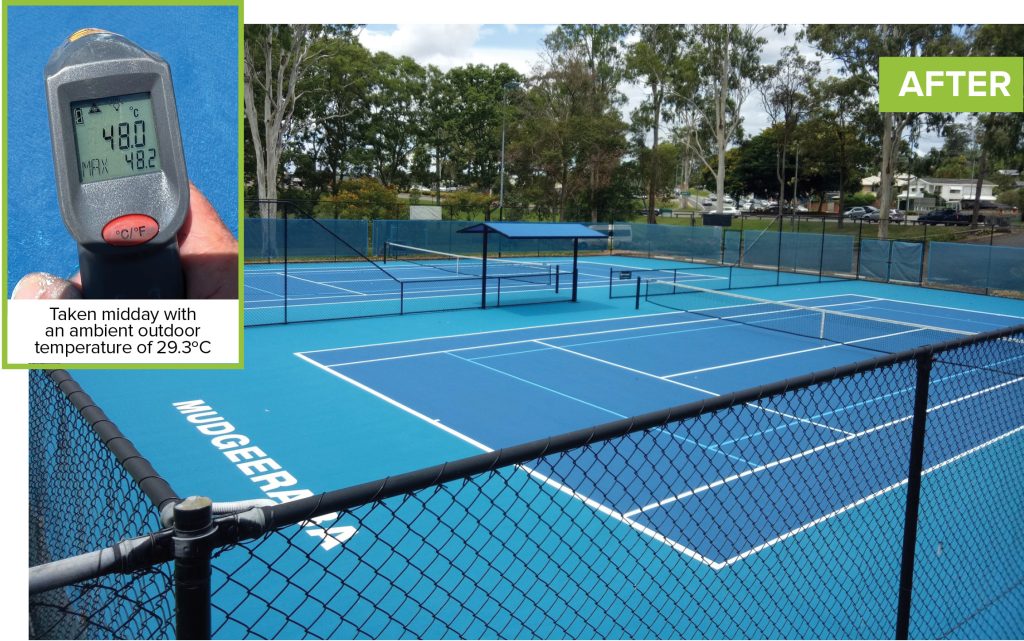 WITH SOLAR REFLECTIVE RATINGS 20-30% HIGHER THAN STANDARD COURT COATINGS, our CoolTop coatings will retain less heat and help reduce the temperature of your court. Temperature reductions will vary depending on location, court colour and site conditions.