Plexipave® will once again be the surface of choice for the BNP Paribas Open
California Sports Surfaces, a division of ICP, has supplied Plexipave as the tennis surface of choice for the prestigious tournament for nearly 25 years.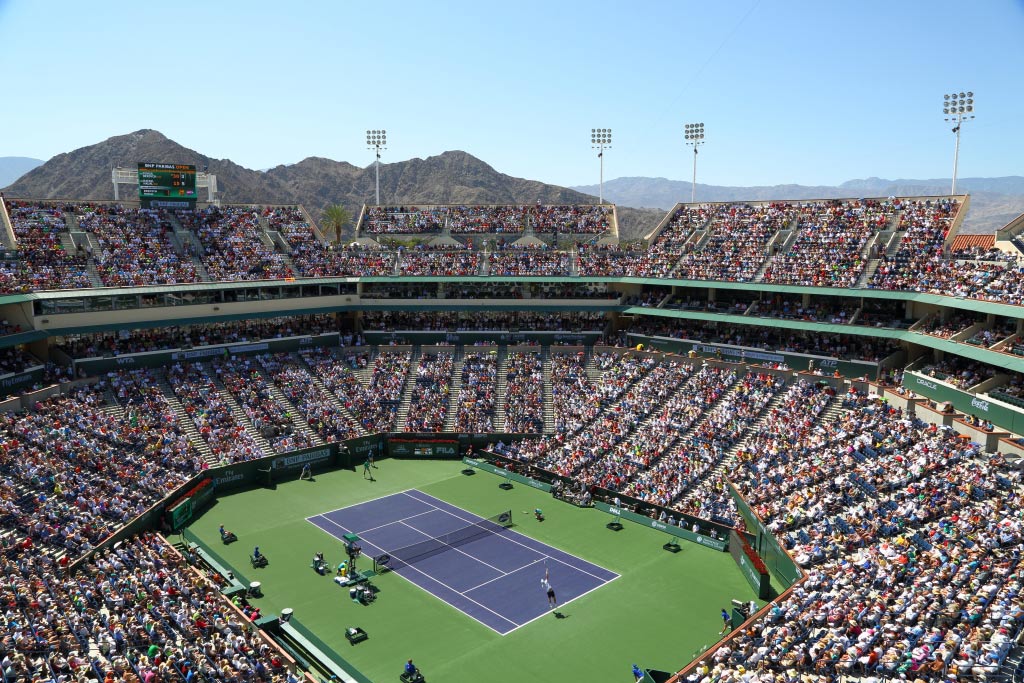 ANDOVER, Mass. – February 24, 2022 – Plexipave, a California Sports Surfaces brand, has once again been chosen as the surface of the BNP Paribas Open in Indian Wells, California.
Plexipave has been the BNP Paribas Open's surface system of choice for nearly 25 years. The Purple and Green courts are instantly recognizable to tennis fans across the world, and the proprietary Plexipave IW system was formulated specifically to provide optimized performance for the arid desert conditions.
Plexipave IW provides a higher bounce and slow pace of play to compensate for the location's minimal humidity and its potential effect on tennis balls. The Plexipave family includes both hardcourt and cushioned systems, offering tennis facilities everywhere the highest levels of performance, texture, longevity, and athletic capability.
"The Indian Wells Tennis Garden is possibly the most iconic facility in all of professional tennis and it is both an honor and a privilege to continue to be chosen and to be able to add our own little splash of color to this stunning setting," added Tom Magner, Director of Product Development for California Sports Surfaces.
California Sports Surfaces is the world's largest manufacturer of acrylic sports surfacing systems and has routinely been chosen by a variety of the world's most recognizable tennis tournaments, including the 2020 Olympic Games in Tokyo.
To learn more about Plexipave and the entire California Sports Surfaces family, visit www.CaliforniaSportsSurfaces.com.
###
About California Sports SurfacesCalifornia Sports Surfaces (CSS) is the leading supplier of prestigious sports surfacing product lines, such as DecoTurf®, Plexipave®, Rebound Ace®, Premier Sports Coatings®, StreetScape and Plexitrac®. As the first and only surface manufacturer to be awarded the status of International Tennis Federation (ITF) Recognition Elite Silver, CSS is the surface of multiple Olympic Games, including the 2020 Olympic Games in Tokyo, as well as other world-renowned events, including the US Open from 1978 to 2019 and the Australian Open from 1988 to 2018. Several portable court systems are also available across the CSS product family.
About ICP
Innovative Chemical Products (ICP) is a leading specialty chemical manufacturer in North America and provides coatings, adhesives and sealants globally. With operations headquartered in Andover, Massachusetts, and multiple manufacturing facilities around the world, ICP serves multiple end markets, including building materials, specialty construction, industrial, packaging, printing and sports surfaces. ICP is privately held and manufactures products under several recognized specialty groups. For more information, visit www.icpgroup.com.
ICP is a portfolio company of Audax Private Equity.