California Sports Surfaces, a division of ICP, is proud to support safe and comfortable tournament play for a sixth consecutive year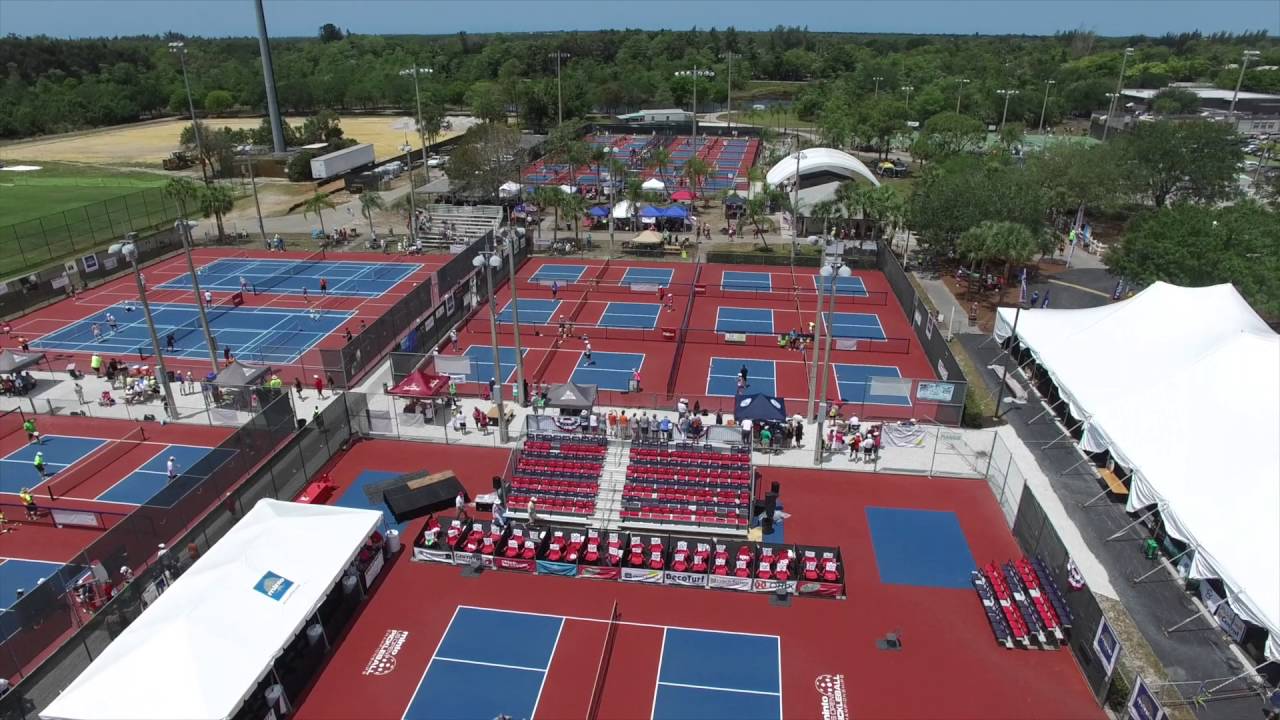 ANDOVER, Mass. – April 21, 2022 – DecoTurf, a California Sports Surfaces brand, has once again been chosen as the surface of the Minto US Open Pickleball Championships in Naples, Florida. Billed as the largest pickleball tournament and party in the world—all set in a beautiful outdoor paradise—the event is expected to draw over 2,600 players competing on 60 dedicated courts for ultimate pickleball prestige.
California Sports Surfaces has partnered with the US Open Pickleball Championships since its first national tournament in 2016 and continues to make a commitment to both this popular competition and the sport of pickleball at large.
Hosted at the East Naples Community Park, the Open runs April 23-30 and features permanent DecoTurf courts, highlighted by the bustling Zing Zang Championship court. For "picklers" worldwide, the signature dark blue and red DecoTurf courts are instantly recognizable as a mark of thrilling, high-stakes match play.
"There are tournaments on the calendar and then there are events, and the Minto US Open Pickleball Championships is definitely the latter," notes Tom Magner, Director of Product Management for California Sports Surfaces. "It is a fun-filled showcase with incredible energy, and we are honored to be part of it once again."
California Sports Surfaces is the world's largest manufacturer of acrylic sports surfacing systems that have been routinely chosen for play at high-profile events including the 2020 Olympic Games in Tokyo.
DecoTurf low-maintenance court surfaces can be formulated to meet the requirements of athletes at any level including for pickleball, tennis, basketball, and various roller sports. This versatile surface features a multilayered construction that is suitable for indoor or outdoor use. From the scorching heat of Florida summers to grueling subzero Minnesota winters, DecoTurf can withstand extreme temperatures without compromising the quality of the court.
Learn more about the official surface of the USA Pickleball Association for professional game play at CaliforniaSportsSurfaces.com.
###
About California Sports Surfaces
California Sports Surfaces (CSS) is the leading supplier of prestigious sports surfacing product lines, such as DecoTurf®, Plexipave®, Rebound Ace®, Premier Sports Coatings®, StreetScape and Plexitrac®. As the first and only surface manufacturer to be awarded the status of International Tennis Federation (ITF) Recognition Elite Silver, CSS is the surface of multiple Olympic Games, including the 2020 Olympic Games in Tokyo, as well as other world-renowned events, including the US Open from 1978 to 2019 and the Australian Open from 1988 to 2018. Several portable court systems are also available across the CSS product family.
About ICP
Innovative Chemical Products (ICP) is a leading specialty chemical manufacturer in North America and provides coatings, adhesives and sealants globally. With operations headquartered in Andover, Massachusetts, and multiple manufacturing facilities around the world, ICP serves multiple end markets, including building materials, specialty construction, industrial, packaging, printing and sports surfaces. ICP is privately held and manufactures products under several recognized specialty groups. For more information, visit www.icpgroup.com.
ICP is a portfolio company of Audax Private Equity.